On Thursday 24 February 2022 we woke up to the shocking news that Vladimir Putin's Russia had launched a full scale invasion of Ukraine.
Perhaps we should not have been so surprised, after all in the 22 years since he took power we've seen the destruction of Grozny in 2000, the invasion of Georgia in 2008 and Crimea and the Donbass region of Ukraine in 2014, the destruction of Aleppo and other Syrian cities in 2015-2016, the use of radioactive and nerve agents to poison opponents in the UK, and efforts to undermine democracy and sow division in Europe and America, not least in the Brexit referendum and US Presidential election in 2016. These crimes, and the build up of troops around Ukraine made us fear that something terrible was about to happen, but until that fateful morning we still hoped Putin would hold back from a full invasion of a sovereign European democracy. We were wrong.
We in Cambridge for Europe recognise that this was not just a terrible crime against the people of Ukraine, but an attack on democracy and freedom across Europe. Putin invaded Ukraine because it is committed to the values of freedom, democracy, human rights, equality, human dignity and the rule of law, and he sees this as a threat to his authoritarian – now totalitarian – rule in Russia. Ukraine was invaded because it has chosen the path of freedom and democracy, and aspires to be a member of the European Union, and if Putin succeeds in crushing Ukraine he will set his sights on other European states.
Supporting Ukrainians in Cambridge
In the days following of the invasion of Ukraine on 24 February, the academics and students of the Cambridge University Ukrainian Society (CUUS) organised a series of rallies, vigils, talks, fundraisers and other events in Cambridge to increase awareness of what is happening in Ukraine, rally support, and raise funds for defence and humanitarian aid. We have been hugely impressed by their efforts over the past 6 weeks, despite the terrible circumstances they and their families and friends find themselves in.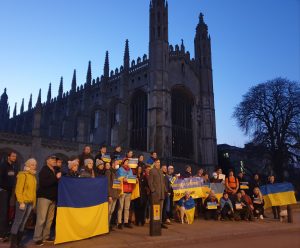 Several Cambridge for Europe members attended and spoke at these events, and we decided that the best way we could help Ukraine was by supporting CUUS, promoting their events and sharing information on how to help the people of Ukraine. We also provided practical support in the form of our PA system, portable stage and marshals vests for the marches held in Cambridge on Saturday 5 March and Saturday 26 March. Our Chair Paul Browne spoke at the march on 5 March, and our Secretary Michael Clegg spoke at the march on 23 March.
The march in Cambridge on 23 march happened on the same day as a huge march in London that was co-organised by the European Movement UK.
We will continue to support CUUS for as long as this dreadful war continues, and beyond that as Ukraine rebuilds and works towards joining the EU.
How to support Ukraine
There are lots of ways to support Ukraine, by donating money for humanitarian assistance, military aid or to rebuild infrastructure, and by writing to your MP to demand that the UK does everything it can to help the people of Ukraine, from tightening sanctions against Russia, to providing more and heavier weapons to Ukraine, to providing more help for Ukrainian refugees.
More than four million Ukrainians have already their country to find shelter in other European states. The EU has responded to this crisis by waiving visa requirements and allowing Ukrainian refugees to stay for up to 3 years, to work, and access education and other services, while the EU and its member states are providing billions of Euros to aid both Ukrainian refugees outside Ukraine and internally displaced people.
The UK's Homes for Ukraine visa scheme has been far less generous and effective, and its combination of an unnecessarily complicated application procedure and under-resourcing of the civil servants who administer it has led to long delays, putting barriers between the hundreds of thousands who need our help and the hundreds of thousands here who can give it. Institutions like the University of Cambridge that also wish to sponsor and accommodate refugees have been left waiting for guidance.
On 1st April Cambridge resident Rend Platings, who is herself originally from Syria, began a hunger strike to highlight the delays that Ukrainian refugees are facing when applying for a UK visa.
Write to your MP and tell them that the UK must either greatly simplify the visa application process for Ukrainian, refugees, or better still waive the requirement for visas altogether, and put in place a robust system to match up refugees with fully vetted hosts, rather than continuing to rely on a DIY approach that makes refugees vulnerable to exploitation.
The EU response to the Invasion of Ukraine
It's easy to be frustrated by the slow response by the EU and its member states (as well as the UK and USA) to the invasion of Ukraine, but we should not underestimate the magnitude of the change that the EU has undergone since 24th February.
In addition to the help for Ukrainian refugees mentioned earlier, the EU is establishing the Ukraine Solidarity Trust Fund to "provide … for the reconstruction of a democratic Ukraine", and put Ukraine firmly on the path to EU membership. In an unprecedented action the EU is providing 1 billion Euros in funding to Ukraine to buy military equipment, and is expected to agree to provide another 500 million Euros in the coming days. In a dramatic reversal of decades-long defence policy, Germany has announced greatly increased defence spending, and has sent Ukraine thousands of anti-tank and anti-aircraft missiles. Whether this change extends to heavy weapons such as armoured vehicles remains to be seen, but it is nonetheless a remarkable turnaround.
On sanctions the EU started strongly with sanctions targeting banks and individuals, and it's good to see that imports of coal will end in August, but there is still clearly great reluctance in some member states, including Germany, Austria and Hungary, to take any economic hit from swiftly ending reliance on Russian gas and oil. Hungary's Prime Minister Viktor Orban is a long-time ally of Putin, so his position must be treated with deep skepticism, but we would hope that Germany and Austria will at the very least soon agree to ending oil imports from Russia. Oil imports are worth about ten times as much as coal to Putin's Russia, and alternative suppliers are available, so there is little excuse for not banning imports. If Hungary veto's an EU wide ban, then willing member states should implement the ban themselves.
Ending reliance on Russian gas is a bigger challenge, but multiple robust economic analyses – such as the ECONtribute report published last month – have found that the effects of ending gas imports from Russia would not be as bad for the German economy as many claim. Balanced against the atrocities being committed by Russia in Ukraine, the moral case for quickly ending gas imports is overwhelming.
Even if gas imports from Russia cannot be stopped entirely this year, a firm timetable for rapidly phasing them out in the next couple of years would encourage investment in alternatives. Furthermore, with emerging evidence that sanctions are really starting to take their toll on the Russian economy, the knowledge that the EU's imports of fossil fuels – which are after all Russia's main source of foreign income – will rapidly decline is likely to further discourage investment and make it much more difficult for the Russian government to raise money to fund their war machine.
The invasion of Ukraine teaches us that we must never be complacent about democracy, it is something we need to cherish, tend and defend.
The role oil and gas are playing in fueling this war is also clear, and let's not forget that the atrocious war in Yemen that has claimed so many innocent lives is also a proxy war between two oil-rich autocracies. The EU and its member states must never again sub-contract their energy security to autocracies. The scientific and environmental case for ending dependence on fossil fuels has long been irrefutable, now the political case is too!
The challenges ahead
So what will the coming weeks bring? We know that the Ukrainian people will continue to resist the Russian aggressor, and may well defeat Putin. We expect that the help they are receiving from the EU and other allies will increase in both quantity and quality, and hope that sanctions will be extended to include oil and gas imports from Russia.
We also well aware that none of this is easy. Putin's allies in Europe are exploiting the post-pandemic inflation and cost-of-living crisis to argue against both sanctions against Russia and measures to prevent catastrophic climate change. The recent polling gains made by the far-right Putin-admirer Marine Le Pen in the French Presidential Elections are especially worrying. A Le Pen victory later this month would be a disaster for France, for the EU, and for Ukraine. We have to hope for the future of democracy in Europe that Emmanuel Macron wins a second term as President of France.